The snow man we built a couple weeks ago is starting to fall over. I think its sinking into the grass. It hasn't really been warm enough for it to melt yet. He lost all his teeth and an eye (click image to view bigger):
My family celebrated our third Thanksgiving in Michigan this year. My Mom was planning on cooking an unconventional thanksgiving feast, but received a turkey from work at the last minute. We all ate way too much turkey, mashed potatoes, dressing, salad, and bread and cheese fondue. Pumpkin pie for desert. The holiday's have really ruined my no processed sugar diet :)

Early in the week, we ventured to Kalamazoo to check out some potential living arrangements for next year. I'm super excited to move and start school at Western in Fall 2009. I just need to find some good room mates.

We went for a hike in Waterloo. And bought a Christmas tree at Arend Tree Farm. Lots of photos (click images to view bigger):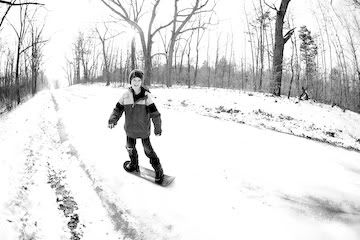 Zach on the snowskate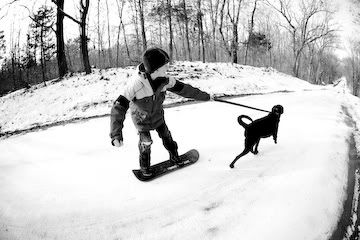 Mandi Pulling Zach on snowskate
Walking down Ridge Rd towards Waterloo Rec Area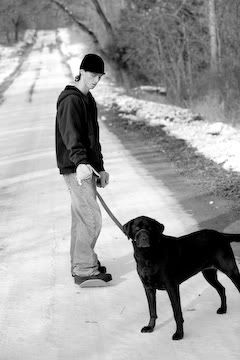 Bri trying to get Mandi to pull him
My favorite pup, Mandi
Brian looking cool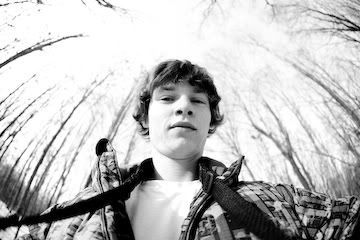 In the woods, where I belong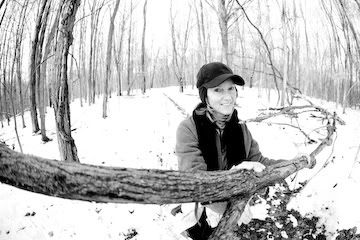 My Mom, Wendy, posing for a quick pic on the trail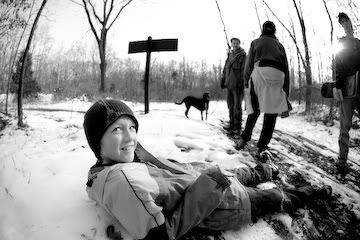 Zach taking a break, while we decide which way to go
We got a little behind and I really liked the light coming through the trees, so we stopped for a minute
Hit me in the face :)
Dodged!
Came out of no where, direct hit to the lens :( Zach is behind the tree, if you can't find him